WRONG OIL IN GEARBOX Second Part
The problem
Sometime ago, a customer of us made as check a sample of lubricating oil, during the control, it appears that the oil had a viscosity about 1/3 lower respect to the nominal that we expected.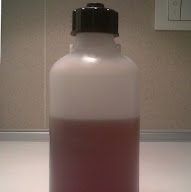 The cause
Making a check with the customer, we found that a topping with hydraulic oil has been made after an hose breakage, the hydraulic oil had a viscosity of about 1/10 of the lubricating oil.
The solution
Luckily or customer has repaired the system before failures star to appear, making exception for the wasted oil and replacing costs. So, be always attentive to what you put inside your gearboxes.